---







About the Artist

---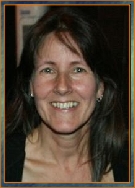 In September 1995 an acquaintance asked me to accompany her to the Doll and Bearfair in Groningen.
I thought that would be kind of nice…for my daughter that is. Most dolls didn't appeal to me, until we reached the trolls and fairies. I had no idea I would be so attracted to them. That same night I made my first wood-gnome.
Later on some people were making a forest of fairies for an exhibition, for which inhabitants were required. My first doll 'prince' was received with great enthusiasm. Therefore I quickly decided to make more dolls for this exhibition.
When I start working on a doll I am so eager to know if I can realise the idea in my head through my hands, that I find it hard to stop working. My goal is to make all the faces very expressive, to make them glow. Even if the clothes are exquisite, the doll will be worthless if the face doesn't radiate.
I use selfhardening clay and the body is made of fabric filled with Fiberfil and a copperwire making the doll stand upright. When making the clothes my education as a dressmaker comes in very handy. The clothes of almost every doll can be taken off. When making the clothes I use a sewing machine, but I am now in the process of changing more to handwork. Through using laceworking and embroidery I intend to make my dolls even more unique.
After all these years I am still enthusiastic about doll-making. Also because other people who have seen my work admire it so much.
As a matter of fact working with clay has been quite easy for me. Ever since my childhood I enjoyed making clothes. Because I enjoy making excessive clothes with beautiful, often expensive fabrics, it is easier to realise this working with dolls than with real people.
I do hope you will enjoy looking at my dolls just as much as I enjoy making them.
© Irmgard Kamphuis.
E-mail:irmgardkamphuis AT hotmail DOT com
---







About the Artist

---